I'm a great fan of Swiss Made Divers Watches. That's no secret to you. The whole website is dedicated to Swiss Divers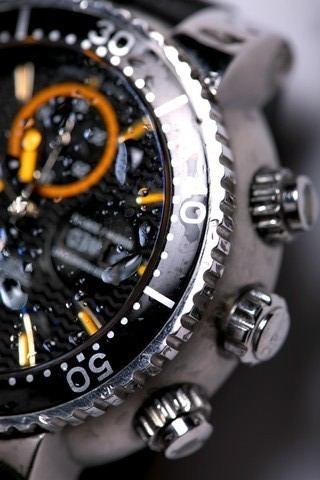 Watches. But why not opt for a non-Swiss watch manufacturer, or a dress watch or a pilot watch?
There are many legendary and celebrated Swiss luxury timepieces that are classified as dress and pilot watches. So why do I insist with such persistence that Swiss Made Divers Watches are indeed special? A watch is merely a watch – yes? On the most superficial level, I would be inclined to say "yes", but there is a dramatic difference between a watch and a watch.
All watches aren't the same.
But you might refute my rather self-confident and bold statement by saying: "I'm not a professional diver. I'm not an even an amateur diver. I'm not even near the water. So why would I need a divers watch on dry land?"
And my response would be: "You don't need to be a diver – neither a professional one nor an amateur one, in order to wear a Swiss Made divers watch on dry land 7 days a week, 365 days a year."
Most people aren't professional divers and most people wouldn't use their divers watch for diving – at least not on a daily basis – and yet I absolutely and without the slightest hesitation insist that Swiss Made Divers Watches are the most desirable watches in the world.
I can honestly tell you that in a comparison game, I'd prefer a Swiss watch over a non-Swiss watch, and I would absolutely prefer a divers watch over a dress watch or a pilot watch. So what are my reasons?
Why Swiss watches?
First of all – it's Swiss – you can't beat Swiss quality.
Switzerland is pretty much the epicenter of the world's luxury watchmaking, and Swiss watches, and luxury watches are almost synonymous. In fact, the Swiss tradition and expertise of watch manufacturing is almost unmatched with regard to innovation, quality materials, artisanship, luxury and comfort.
I'd say that the main competitor of the Swiss watchmaking industry is Japan – without question. Undeniably, you'll find a large amount of countries making decent and maybe even pretty good watches.
There are in fact French, Italian, German, Danish, Swedish, Russian, American, Chinese and Canadian brands too, but "the big two" in the watchmaking industry are without a doubt Switzerland and Japan.
Quality and technological innovation:
If you want a list of the "big three" in terms of quality timepieces and technological innovation, I'd guess that would be (1) Switzerland, (2) Japan, and (3) Germany.
Manufacturing volume:
In terms of manufacturing volume – only the Chinese and the Japanese can match and even exceed the Swiss in this field.
Luxury and craftsmanship:
In terms of luxury and quality, I'd guess it's only the Germans that can match the Swiss.
The Germans do in fact manufacture the globally respected (among connoisseurs) luxury watch brands such as A. Lange & Söhne and Glasshütte. They are in many ways comparable to Switzerland's extreme luxury watch brands, such as Patek Philippe, Vacheron Constantin, Audemars Piguet, Jaeger LeCoultre, Breguet, Blancpain and Zenith.
The main difference between German and Swiss luxury watch brands, is that Germany has only a handful of respected luxury watch brands and manufacturers, while Switzerland has dozens of internationally respected luxury watch brands and manufacturers – maybe even as many as 40-50 of them!
Most non-Swiss and non-Japanese watch brands use Swiss or Japanese movements anyway, so there's no doubt that in the field of watchmaking, and in the field of conceiving, developing and manufacturing the watch movements, Switzerland and Japan together enjoy a completely dominant position in the market.
As far as the movements are concerned, the Swiss supply non-Swiss brands with ETA movements – usually lower end ETA movements such as a standard ETA 2824, while the Japanese supply Japanese and non-Japanese brands with Seiko, Citizen and Miyota movements. The servicing costs, and reliability of the Japanese movements would probably be equal to entry level Swiss movements. The Swiss ETA 2824 is an example of an entry level Swiss movement.
The ETA movements are manufactured by Switzerland's and the world's single largest corporate group, manufacturer and owner of entry level-, mid range-, and high end luxury watch brands – the famous Swatch Group.
The Swiss watch brands themselves do not only rely on standard ETA movements, but very often on higher end ETA movements, and even luxury in-house made high quality movements, such as the ones used by Rolex, Patek Philippe, Audemars Piguet, Omega, Breitling, Jaeger LeCoultre and IWC – just to mention a few prominent examples.
As you will see later on in this article, the Swiss and the Japanese have two fundamentally different approaches to watchmaking.